Browsing all articles in BPO SERVICES
This is our new Faq's series of blog posts. We would answer here some common questions related to Call Centre & BPO industry that are frequently asked either by our clients or in Q&A websites. So this is the first question in this series.
What is the difference between Call Centre & BPO Companies?
BPO & Call Centre are used interchangeably most of the time, but there is a difference between the two. The key difference is a BPO Company performs back office tasks of any business like customer support or accounting functions, whereas a Call Centre Company handles just telephone calls.
BPO:
The process of outsourcing a specific function of any business to a third party is Business Processing Outsourcing. The BPO operations include both core tasks like manufacturing products and non-core tasks like customer support. The outsourcing model helps companies to focus on R&D and new initiatives to provide new products and services to their customers and to sustain in the competitive markets.
Infosearch offers the following BPO Services:
BPO Services: Back Office Functions, Invoice Factoring Support, Underwriting Process, Accounts & Finance Services, HR Services and Infrastructure Management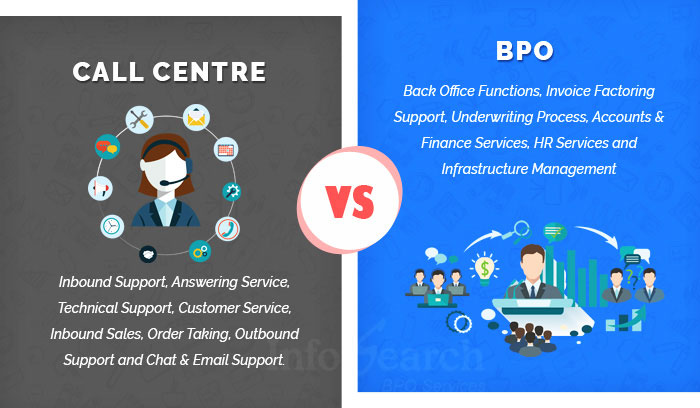 Call Centre:
Call Centre is a subset of a BPO and the services of a Call Centre are primarily voice based services. Call Centre services help businesses to stay connected with its customers through Inbound & Outbound calls. What is Inbound & Outbound Call centre? The Call Centre that handles receiving calls is Inbound Call Centre and the one that calls its prospects / customers are Outbound Call Centre. It's essential for any business to keep its existing customers happy and gain more customers as well. So outsourcing your customer service to a call centre becomes essential.
Infosearch handles the following Call Centre Services:
Call Centre services: Inbound Support, Answering Service, Technical Support, Customer Service, Inbound Sales, Order Taking, Outbound Support and Chat & Email Support.
Contact Infosearch for your BPO & Call Centre Services. Or email us enquiries(at)infosearchbpo(dot)com
To put it precisely, Invoice Factoring Companies can save lots of time and operational costs by outsourcing their associated back office services.

We do the following tasks with high accuracy and at a short span of time:
• The verification of the invoices received from your customers
• Inspecting the supporting documents submitted by them
• Check with the debtors about every customer and
• Finally approve invoice for release of funds
Why us?
• We have experience handling invoice factoring bpo. You can read about one of such experience in this case study
• Our team of representatives is trained with various industry specific softwares.
• We use Subject Matter Experts (SME), a unique methodology to learn the execution of process from you.
• We have strong domain knowledge, aware of industry specific practices and understand country specific rules.
• We will work on your behalf and so you will never feel like the task is being outsourced.
Contact us right away if you are interested in our services.