Browsing all articles in Call Center Services
This is our new Faq's series of blog posts. We would answer here some common questions related to Call Centre & BPO industry that are frequently asked either by our clients or in Q&A websites. So this is the first question in this series.
What is the difference between Call Centre & BPO Companies?
BPO & Call Centre are used interchangeably most of the time, but there is a difference between the two. The key difference is a BPO Company performs back office tasks of any business like customer support or accounting functions, whereas a Call Centre Company handles just telephone calls.
BPO:
The process of outsourcing a specific function of any business to a third party is Business Processing Outsourcing. The BPO operations include both core tasks like manufacturing products and non-core tasks like customer support. The outsourcing model helps companies to focus on R&D and new initiatives to provide new products and services to their customers and to sustain in the competitive markets.
Infosearch offers the following BPO Services:
BPO Services: Back Office Functions, Invoice Factoring Support, Underwriting Process, Accounts & Finance Services, HR Services and Infrastructure Management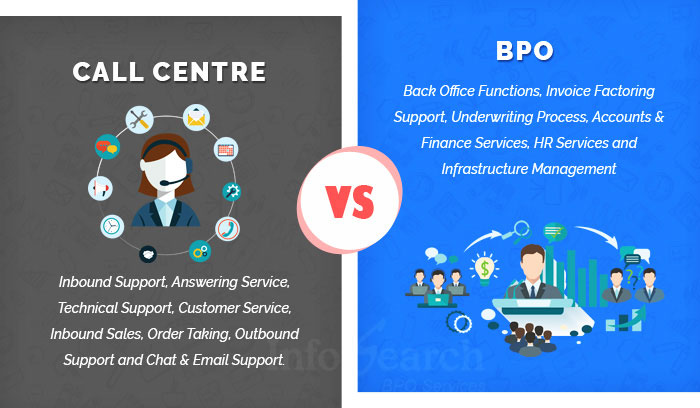 Call Centre:
Call Centre is a subset of a BPO and the services of a Call Centre are primarily voice based services. Call Centre services help businesses to stay connected with its customers through Inbound & Outbound calls. What is Inbound & Outbound Call centre? The Call Centre that handles receiving calls is Inbound Call Centre and the one that calls its prospects / customers are Outbound Call Centre. It's essential for any business to keep its existing customers happy and gain more customers as well. So outsourcing your customer service to a call centre becomes essential.
Infosearch handles the following Call Centre Services:
Call Centre services: Inbound Support, Answering Service, Technical Support, Customer Service, Inbound Sales, Order Taking, Outbound Support and Chat & Email Support.
Contact Infosearch for your BPO & Call Centre Services. Or email us enquiries(at)infosearchbpo(dot)com
Online food ordering is a new age business with high demand and acceptance. It requires to integrate customers, Application or service provider and Restaurants. The process needs to be synchronized for faster deliveries.
The product is evolving in many dimensions with addition of different cuisines and customization. Customers are given option to select a specific restaurant or cuisine. The app should have provision to suggest choices based on cuisine selection and location.
The whole idea of online good ordering should give ease, convenience and faster deliveries of food to customers. The big player Grubhub Inc. delivered orders worth $1.5 billion in the last year. It's a 61% online ordering market share. The industry is growing at a rapid phase soon expected to touch over $5 billion.
Need for a Call centre support
Even though these are App based solution there is a need for human intervention through call centre support services by coordinating with customers, restaurants and delivery team. Infosearch BPO offers Call Centre support services for such services. Contact us if you are looking for the support service. Email: enquiries(at)infosearchbpo(dot)com

Recent Posts
Archives