Infosearch BPO Wishes A Happy Diwali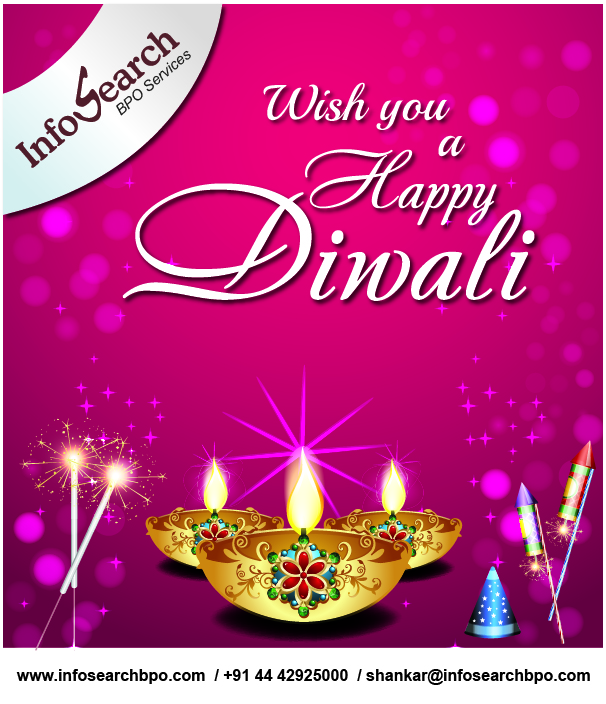 Diwali for the year 2015 has almost arrived. Diwali is a festival of lights that removes all torments and brings in all happiness. Infosearch BPO wishes a happy and safe Diwali to you all. We at Infosearch enjoy Diwali celebrations at office by decorating our premises, fill the floor with colorful rangolis and share sweets with all our employees.
Infosearch BPO enjoys a great successful journey since its foundation with all outsourcing services. We offer many call center services for every business across the Globe which gives timely results with innovative technologies.
Some of our services are:
Inbound Services – Answering service, Customer service, Inbound sales & more
Outbound Services – Appointment setting, Telemarketing, Lead generation & more
BPO Services – Accounts & Finance, HR services, Chat Email support & more
KPO Services – Business Market Research, Management Training & more
Web Design Services – Website design, Branding, Website maintenance & more
Contact us for your outsourcing services!
Happy Diwali to all!!
2015 marks the 10th anniversary of Infosearch BPO Services, India. We are proud to have served several clients from every major country including UK, USA, Australia, UAE and of course India.
A quick rewind
Infosearch BPO was started in 2005 by three friends who have distinct domain experience and rich industry knowledge. The BPO & call center company has come a long way since its launch ten years ago with just 10 seats serving native businesses and to 250 seats serving both Indian and international clients.
Brand Evolution
In these 10 years, we have constantly dedicated on providing quality business service & call center solutions to International businesses. We believe the secret of our success are innovative strategy that we follow in every process we do, updating regularly to current trends of technology and most importantly the affordable costs that we label our services with.
Our work has also got diverse like we are providing several Inbound, Outbound, BPO, KPO & Web services. Our working culture, world-class infrastructure & employees who are experienced and well trained by us, helped Infosearch BPO to grow rapidly and steadily during these 10 years. Our clients from all parts of the World are our strength.
As part of the 10th year celebrations, we have increased our social servicing campaigns that help the human kind, the society & the country. Our website is updated with a special mark that reflects 10th year birthday.
Contact us at http://www.infosearchbpo.com/contact.php
We look forward for another decade of successful business.