Call Centre - Out Bound - UK
The Client
Our client is into advisory services on Energy to household customers of UK. The client offers advisory services through web, inbound and out bound services in India.
The Challenge
The client is in the seventh position in the utility price comparison services in UK. They have couple of outbound centre in India. The client wants to attain first position in 2 years time and the possible way is to increase the calling agents. The client approached us to start an outbound centre on fixed payout model. The client is governed and monitored by UK authorities to give quality service and to protect consumers.
The Solution

We have dedicated 15 seats to start the call centre operation and it has picked up very well now.We expanded our call centre operation from 15 employees to 175 employees for calling UK households and offer advisory services (Customer service) on their energy bills. We help customers to switch energy supplier through a hassle free process. We do all the hard work and the customer will be benefited by huge savings.
We have been provided complete training by the client directly and the customer service operation is monitored by them on a daily basis. We stick to quality compliances, performance metrics and continuous development. Quality and performance are key attributes in this outbound campaign.
The process has Campaign Manager who will be the process owner. This person is responsible for the quality and productivity of the BPO operation. Team leaders will facilitate the team on productivity and quality analyst will ensure 100% quality in Customer services.
The Success
Successful call centre services provided for the past 3 years to the core satisfaction of the client and customers.
The client has given additional responsibility of calling profiled leads because of the confidence with our outbound call centre.
The client is also planning to utilize our call centre for their other utility campaigns which is a great success for our operation.
There is a stiff competition among the client's other call centre operation, we are proud that we have achieved the No. 1 position.
Performance Index
| | | | | |
| --- | --- | --- | --- | --- |
| Term | Productivity - SPD | Sales | Cancellations | Compliance |
| 1 st Week | 0.17 | 15 | 0 | 0 |
| 2 nd Week | 0.21 | 19 | 0 | 0 |
| 3 rd Week | 0.18 | 16 | 1% | 0 |
| 4 th Week | 0.57 | 51 | 3% | 0 |
| 5 th Week | 0.70 | 65 | 7% | 0 |
| 6 th Week | 1.18 | 106 | 7% | 0 |
| 7 th Week | 1.68 | 151 | 5% | 0 |
| 8 th Week | 1.90 | 154 | 3% | 2 |
| 9 th Week | 2.00 | 176 | 5% | 0 |
Productivity Chart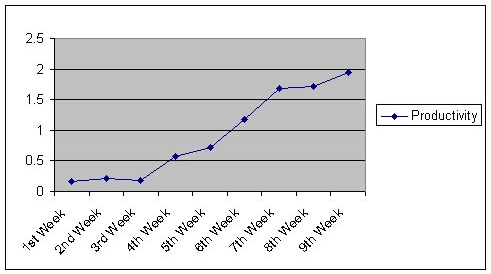 Productivity Vs Cancellations