A crucial success element for AI adoption is deploying the right resources at the right time. Businesses must dynamically deploy talented team members to keep projects on schedule to maximize efficiency, sustain progress, and preserve morale. Many people will opt to work with outside experts. This is especially useful for maintaining momentum and overcoming skills gaps that might preclude an organization from taking on the project internally.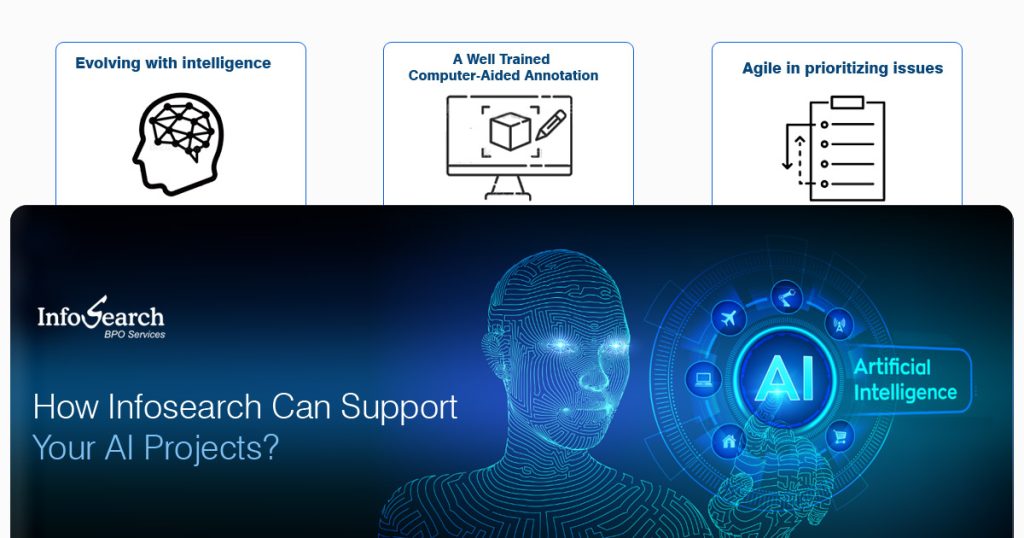 Infosearch offers several digital accelerators aimed at helping businesses automate and accelerate the "hard lifting" associated with AI adoption. In addition to engaging with external digital engineering professionals, companies must tap into their internal talent. One method to ensure that the data your AI project generates is valuable from the start is to work closely with the subject matter experts who will be using your data-driven insight daily. Below are the three key factors that Infosearch excels in driving your AI Projects.
1. Evolving with intelligence
It's essential to keep AI initiatives on track by ensuring that teams don't lose sight of their objectives. Technological support from Infosearch, provide ongoing feedback by collecting data from existing project management tools like JIRA and software value chains used in DevOps and providing real-time insights that teams can learn from right away improve as they go.
When it comes to increasing the value of the insights gained while also enhancing efficiency and lowering risk, a system of continuous intelligence is the best way to go. Businesses may stay focused on outcomes and use data as a strategic decision-making asset, and continue progress toward KPIs, whether business, process, technology, or people-centered, using a continuous innovation system with intelligence at its core.
2. A Well Trained Computer-Aided Annotation
Artificial Intelligence (AI) is a new era, and it requires training to deliver the desired outcomes. Machine learning, deep learning, and computer vision require human intervention to be effective. To make it possible, a significant amount of data must be trained. Whether it's self-driving cars, food delivery drones, image recognition, or any other business, successful automation requires human-powered content. Infosearch provides manual annotation services for machine learning (train the data), then automate the process.
Infosearch undertakes data annotation jobs using proprietary, client-provided, and open-source annotation tools. Depending on the requirements, both automatic and manual tagging services are offered. The data labeling team at Infosearch can provide pixel-level segmentation to ensure high-quality outcomes. XML, JSON, CSV, Excel, Pascal VOC, and other standard output formats are available.
3. Agile in prioritizing issues
Infosearch prioritizes the area where AI adoption will provide the most benefit. Because the scope of such pilot projects is precisely specified, they are significantly more likely to succeed. Providing teams with a project leader-board via the AI technology service platform, in our experience, is a simple yet effective method to simplify the complicated work that is happening in parallel streams and indicate progress and productivity. To keep teams interested and motivated, we deploy gamification approaches. It is one of the guiding ideas underlying Infosearch unique methodology for continuous data insight.
Conclusion
Looking forward to maintaining motivation and momentum by using the correct abilities at the right time, choose a well-known organization that provides picture annotation services and is well-versed in AI model creation. A managed service team can help you set up and run your AI projects, no matter how complex your data annotation requirements are.
Over the years, Infosearch gained a lot of experience providing annotated datasets utilizing various distinct forms of data annotation. Consequently, it has also acquired a reputation for excellent quality and faster delivery. Artificial Intelligence, Machine Learning, Computer Vision, Image Recognition, Autonomous Vehicles, Research Labs, and Robotic businesses benefit from our skilled AI data annotation and labeling services at Infosearch. The image annotation service can help you the most. It is advisable to have the images annotated by industry experts rather than doing it yourself.