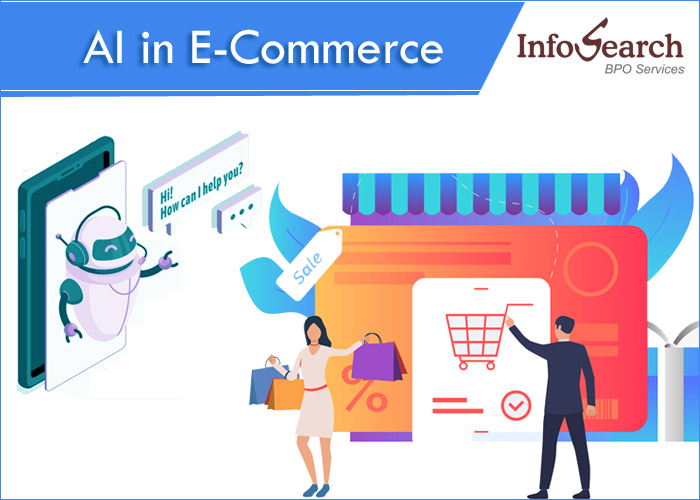 A large number of shopping websites usually have the product recommendation feature. This technology has primarily been enabled by the use of artificial intelligence or also commonly known as AI.
Apart from the large number of product suggestions given to the customers, artificial intelligence in this e-commerce industry is also used by many online retailers. This is done to provide a large number of valuable services to their customers. One of them is the chat bot. They also analyze the customer comments as well as provide personalized services to all the online customers. In a recent study, it was also found out that 1 in every five people in the whole world is ready to purchase the goods or services available in chat bots. It was also found that 40% of the online customers are looking for great offers or shopping deals given to the people.
Advantages of AI in the e-commerce industry
It has been said earlier that global E-commerce sales are projected to reach $4.8 billion by the next couple of years. There have also been predictions from a study that AI technologies will further manage around 80% of all customer interactions. This will all be conducted without using any type of human agent.
The use of artificial intelligence in the online shopping industry is transforming E-commerce platforms in many ways. They are doing it by predicting the shopping patterns of the customers. These patterns are generally based on the products that the customers had bought earlier and when they bought them.
Many E-commerce AI tools are available nowadays. They usually create them from the shopper's natural voice. They also can do tasks such as placing online shopping orders for them.
The Major Implementations of Artificial Intelligence in E-commerce Industry
AI has a lot of benefits but Artificial Intelligence also has a wide range of application features in the E-commerce industry. It is literally dominating the industry these days.
Chatbots and the other virtual assistants
All the E-commerce retailers in the world are increasingly turning towards the use of chatbots or digital assistants. They are doing it to provide 24×7 support to their online customers. They are using AI technologies. On the other hand, they are getting more intuitive and enabling to give a better customer experience.
Apart from that, they also help to provide excellent customer support. They also have capabilities such as;
1. Natural usage processing (or NLP). This can interpret the voice-based interactions with the consumers or customers.
● They also address the consumer needs through deeper insights of the marketing as well as their needs.
● They also have self-learning capabilities that help them to improve a lot over time.
● They also provide personalized or targeted offers to the customers.
● They have the feature of intelligent Product Recommendations.
2. It is also seen that all the personalized product recommendations for online customers are also increasing in the conversion rates by 915%. They are also increasing the average order values by 3%. They are impacting the customer choices by using big data about their search history and previous purchases. The product recommendations generally provide multiple benefits.
They generally give a higher number of returning customers.
Conclusion
AI has improved customer retention as well as sales. They have given a personalized shopping experience to all online customers. They have also enabled a personalized business email campaign. They work on specific data that are gathered from each of the online users. The AI and the machines used in the E-commerce industry derive important user insights from all the generated customer data. They generally do it by establishing multiple touch points with the customers, which ordinary people cannot do.
Contact Infosearch for all your Annotation needs. We have huge experience in various types of annotations. Currently we do 50 MM datasets a month. We follow GDPR & HIPAA Compliance and we are a ISO certified Company.
Website: www.infosearchbpo.com and Email: enquiries(@)infosearchbpo(.)com