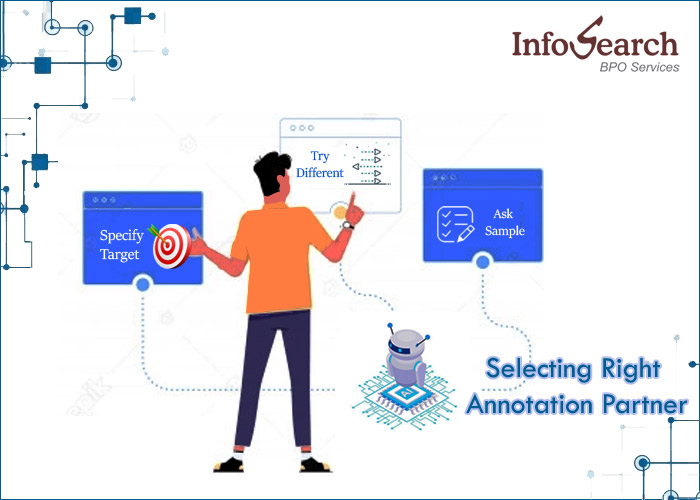 Do you ever think about how human beings can evolve from the very past? When you look back to human evolution, the one thing that made the Homo sapiens now is their intellectual. Intelligence is something that humans are inbuilt with. Nowadays, with the help of Artificial Intelligence (AI) and machine learning, human beings are going a step ahead to replicate the human thought process. For such purposes, data annotation plays a significant role, as it is the way to operate the machine learning process. Below, you will get a brief idea about data annotation and choose a suitable annotation partner for your business.
What is Data Annotation?
Data annotation is a process that applies different methods to direct the machine learning models by preparing some unrefined data. It examines the machine to give the correct output. It is a vital process because it accesses the overall engine and its performance. The process should be done very carefully because a tiny mistake can risk the overall project.
Importance of Data Annotation in Businesses
As the world is changing with the evolving of vast technology, businesses embrace their limits by entering into artificial intelligence technology systems. This AI system provides various benefits by automated decision-making and simplifying many time-consuming tasks in all businesses and industries. You can evaluate its importance by looking at health, agriculture, and so many other industries where AI and machine learning are having a significant impact.
Challenges for selecting a right Annotation partner
Due to the exceptionally high demand for data annotation, many companies are providing the facilities. Here is the actual conflict to choose the right one for your accordance. While hiring for an annotation partner, it is crucial to select the one with exemplary professionalism, which fits in your budget and could set up with your appropriate recruitment process. It will be a little time-consuming to get a suitable annotation partner for your business.
Some steps to follow while choosing a right Annotation partner
Specify your target
It is very much essential to get a specific goal. If you have a particular purpose or target to achieve, you can evaluate your strategy, and you can also set a proper budget and timeline to finish your work.
Assess with different companies
It is very much essential to evaluate and compare different companies before joining hands with them. Many businesses organizations make a widespread mistake that they choose their annotation partner based on the advertisement. Here you have to put a keen observation on some particular fields like:
● The professional experiences – The companies must have highly skilled professionals, which can work on every kind of project and can solve problems.
● Providing good quality of technology – The company should offer a good technology facility with great annotation tools, less human needed machinery, user-friendly tools, and expanded data quality.
● Data safety – In every sector, the essential factor that needs is security. Getting an annotation service which is providing complete data security is the most suitable for your business.
● Standard and cost – To ensure the performance and the cost of the tools are crucial to check for while hiring an annotation partner.
Asking for a sample service
After shortlisting the companies according to your requirement, the next step is to ask for a sample service. They should come to you with all their expertise and tools to give a sample performance. If you get satisfies with their work, then after you can hire them.
Lastly, examine and evaluate their works and progress and always keep in mind your targets and timeline.
Conclusion
Searching for a suitable annotation partner might be a little time taking. But after choosing them with the correct valuation, you will be able to get a productive and worthy performance. Therefore it is very much essential to select for the best. Please write to us for your annotation requirements at enquiries(@)infosearchbpo(.)com