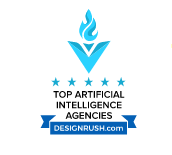 Infosearch has been recognized as a Top 30 Artificial Intelligence Companies in 2021 by DesignRush.
DesignRush is a B2B marketplace that connects brands with professional full-service agencies, artificial intelligence companies, machine learning firms, and top technology companies. The Website features more than 9,300 agencies across the World and thousands of decision-makers are checking this list for their business.
Thank You DesignRush!
We are thrilled to be showcased as one of the top 30 AI Companies from across the World by DesignRush. It is truly an honor to get such recognition for our services and we feel grateful. We congratulate other agencies that were featured along with us.
Infosearch is providing more than 15 annotation services including Bounding box, Semantic Segmentation, Polygon, 3d LiDAR, Geospatial, Video & Image, Text and Audio Annotation services. We offer our services to Artificial Intelligence, Machine Learning, Autonomous Driving, ALPR, Agrotech, Healthcare and Retail industries.
Website: https://www.infosearchbpo.com & Email: enquiries(@)infosearchbpo(.)com