Contact center service is a comprehensive method that helps you stay connected with your customers round-the-clock. We know that satisfied customers keep coming back to you for more business and are more likely to stay with you even in times of big changes. Contact centers are committed for providing quality services that help you build this customer loyalty.
Whether you take orders over the phone or you take many customer service calls, an inbound call center can improve your business operations. A telephone answering service is ideal for the company that deals with many calls per day to order products and services. That can easily be outsourced to another organization and save time within the business itself. But even things like general customer service calls, complaints and inquiries can be handled by a properly trained inbound outbound call center.
Today, India has become the outsourcing hub of the world. As more organizations understand the importance of focusing on their core competencies, they are turning to Indian offshore call center providers to manage their critical but non-core processes. This strategy helps them strengthen their brands and better manage their reactions to changing market dynamics.
Contact centers offer a wide range of services that suit various customer needs. Whether you want to offshore the handling of customer inquiry calls or are looking for a call center that acts as a technical helpdesk, Indian call center companies can provide a solution that takes care of your exact needs. With their focus on putting customers first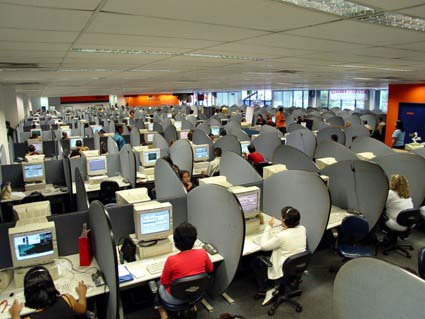 India has extensive experience of working with diverse customers in different industries. Corporate giants in the United States, Europe, and Japan as well as many Fortune 500 companies are leveraging the expertise of Indian service providers to minimize costs without compromising on quality.
Offshore call center outsourcing to India offers the following benefits:
Time zone advantages – The difference in time zones between India and countries like the Australia, U.S. and U.K. makes India a great option for companies looking to provide their end customers with 24×7 customer support or helpdesk services
A vast English-speaking population – India has a large pool of English-speaking professionals that can provide first-time resolution for customer calls
Favorable government policies – The Government of India's favorable policies have supported the growth of the IT enabled services (ITES) industry. Some of the positive steps taken by the government to underline this commitment are:

A separate Ministry of Information Technology was set up to expedite swift approval and implementation of IT projects and to streamline the regulatory process
Software Technology Parks (STPs) with state-of-the-art IT infrastructure and telecom facilities have been established. They provide a "single window clearance" for all regulatory compliance issues
100% foreign ownership is permitted in the ITES industry unlike other sectors where foreign ownership is restricted

Effective communication networks – Because of privatization and a drastic reduction in the tariff of basic telecom, cellular, and internet services, India enjoys an infrastructural advantage like never before. Global companies can leverage this to their advantage
Access to leading practices – Indian offshore call center providers have the capability to provide a range of offshore call center services since they have exposure to working with clients in many different industries. They can give companies access to a specialized knowledge base
Better resource allocation – Leveraging the expertise of Indian offshore call centers can help a company shift its focus from transactional activities and reporting to value-added business analysis
In this way, India has many advantages that help its offshore call centers provide cost-effective solutions to global organizations.