This is our new Faq's series of blog posts. We would answer here some common questions related to Call Centre & BPO industry that are frequently asked either by our clients or in Q&A websites. So this is the first question in this series.
What is the difference between Call Centre & BPO Companies?
BPO & Call Centre are used interchangeably most of the time, but there is a difference between the two. The key difference is a BPO Company performs back office tasks of any business like customer support or accounting functions, whereas a Call Centre Company handles just telephone calls.
BPO:
The process of outsourcing a specific function of any business to a third party is Business Processing Outsourcing. The BPO operations include both core tasks like manufacturing products and non-core tasks like customer support. The outsourcing model helps companies to focus on R&D and new initiatives to provide new products and services to their customers and to sustain in the competitive markets.
Infosearch offers the following BPO Services:
BPO Services: Back Office Functions, Invoice Factoring Support, Underwriting Process, Accounts & Finance Services, HR Services and Infrastructure Management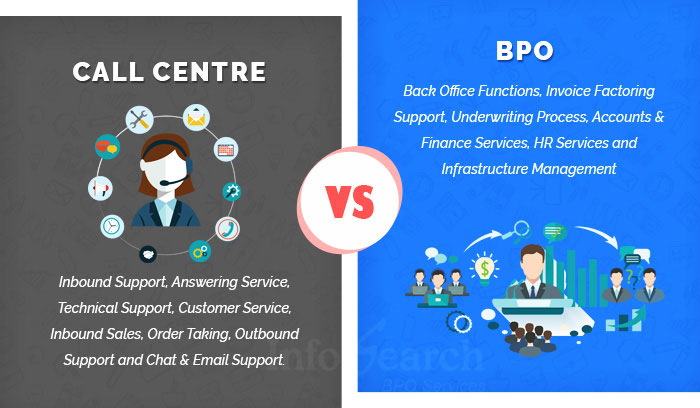 Call Centre:
Call Centre is a subset of a BPO and the services of a Call Centre are primarily voice based services. Call Centre services help businesses to stay connected with its customers through Inbound & Outbound calls. What is Inbound & Outbound Call centre? The Call Centre that handles receiving calls is Inbound Call Centre and the one that calls its prospects / customers are Outbound Call Centre. It's essential for any business to keep its existing customers happy and gain more customers as well. So outsourcing your customer service to a call centre becomes essential.
Infosearch handles the following Call Centre Services:
Call Centre services: Inbound Support, Answering Service, Technical Support, Customer Service, Inbound Sales, Order Taking, Outbound Support and Chat & Email Support.
Contact Infosearch for your BPO & Call Centre Services. Or email us enquiries(at)infosearchbpo(dot)com