Artificial intelligence (AI) is defined as robots performing skilled work or machines performing activities that previously needed human intelligence. Although the notion of Artificial Intelligence may be traced back to Greek mythology, the world first experienced the emergence of stored-program electronic computers throughout modern history. It's a maze of algorithms and codes with millions of them.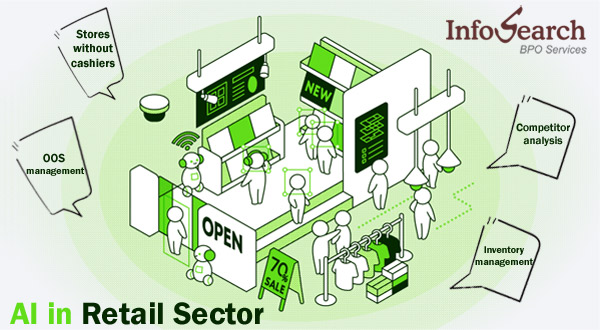 AI in the retail sector:
Because the market is changing too quickly in this fast-growing retail business, merchants must re-examine their current policies. In this current age of digitization and intelligence, they must reflect on whatever they are doing, how they are doing it, and how they are improving their product.
We've seen how the E-commerce sector impacted this centuries-old conventional Industry, particularly in India, where shops increasingly rely on these platforms to sell their products. This time, it's in the shape of Artificial Intelligence, which will be a boon to the retail business if embraced wholeheartedly.
In this era of Artificial Intelligence and Big Data, the efficiency of AI will lead the road for retailers to become more competent to give customer happiness, better services, better reaction to consumer requests, and supply to be competitive. AI can accept massive, complicated data from enormous sources, including photographs and videos, and customer behaviour and reaction, which will change the retail business, whether online or offline.
Applications of AI in the retail sector:
● Stores without a cashier
Robotization of stores resulted in considerable operational cost reductions by lowering human salaries, enhancing efficiency, and reducing wait times.
Some machines will tell you the value of your purchases by scanning their barcodes. They are also fitted with mechanisms to take digital ways of payment, allowing the transaction to be completed virtually entirely without human interaction.
● Solutions that use chatbots
It's much easier for businesses to target client wants and handle their problems effectively and transparently now that AI chatbots have been introduced. AI chatbots improve customer service by sending alerts about new collections and suggesting related goods.
● Strategies for Price Regulation
Retailers using AI technology have been able to establish more competitive rates for their items, allowing them to prosper in the market. It depicts the most likely effects of various pricing schemes. It analyses data for the product's actual cost, promotional activities, and sales figures in the market in seconds from the business's previous transactions and the market. It keeps its par for profits within the same threshold with improved efficiency.
● Virtual Courtrooms
A new trend and a new manner of buying, particularly during economic uncertainty, provided this technology a significant boost. These virtual trial rooms help consumers save time, money, and travel expenditures by allowing them to locate the right ensembles with all aspects precisely matched in just minutes from the comfort of their own home.
● Inventory Management and Product Categorization
AI-based technology mixed with other machine learning algorithms can assist retailers in managing and keeping track of product categorization to direct customers seeking a particular product to the appropriate section of the store rather than sifting through a plethora of undesired items.
● Predictions and Feedback
After the sales and payments are completed, the electronic gadgets installed are likely to inquire about the consumer experience. Because all consumer information is now recorded to keep them informed about impending offers and specials, it is simpler for retailers to solicit feedback and evaluate customer happiness using Artificial Intelligence techniques, leaving plenty of possibility for improvement over time.
Conclusion
It is a reality that machines can replace no human engagement; yet, technology and Artificial Intelligence have made them more successful throughout time. Their algorithms have been shown to enhance sales and consumer engagement, allowing them to eliminate the boredom of offline and selective shopping.
Infosearch being an annotation company, we under the complexities of practically implementing the AI technology in retail applications. Contact us to acquire high quality annotations in the most cost-effective manner for machine learning process in retail sector.