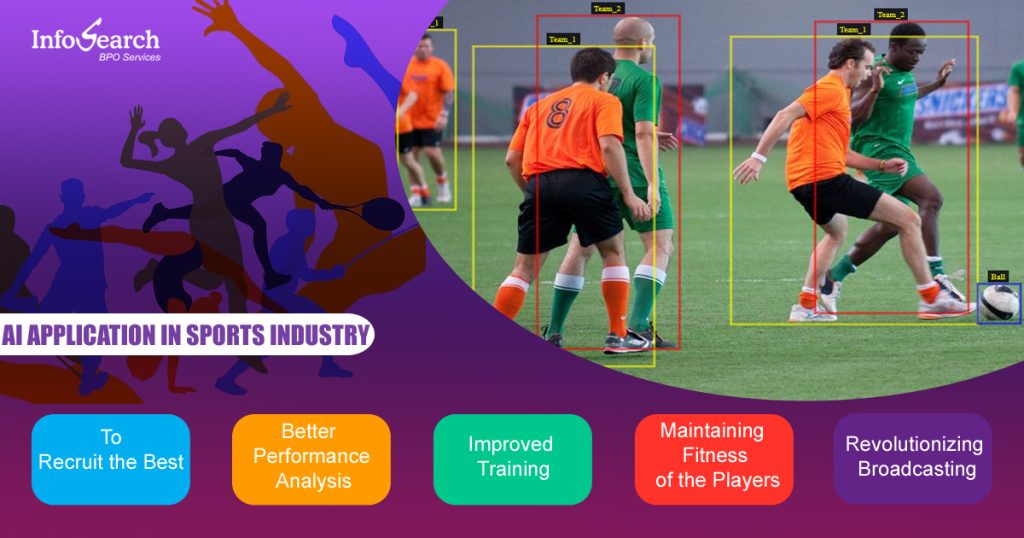 Artificial Intelligence in sports is emerging all over the industry, covering post-game analysis, in-game activities, selection of team members and even the fan experience. For the last two decades, coaches and trainers have been using data science and AI in sports to help improve the performance of their players.
Now that AI, and specifically Deep Learning, has got involved, the sports experience will change even more. Some of the innovative uses of artificial intelligence in the sports industry are given below—
To Recruit the Best
Be it any game, a good player is the entire team's strength. Performance data helps in evaluating an athlete. With the introduction of AI (artificial intelligence) and big data in sports management, recording and documenting the athletes' performance metrics has become far more accessible and more credible.
With the help of this data, it has become easier for a team or board members to choose potential players before actually investing in them and optimally gauge the market value of players.
Better Performance Analysis
Mere goals and runs cannot help in making a performance analysis of a player, and to have the best performance analysis in any sport, trainers must analyze multiple data points concerning individual players and their performance.
This is where AI comes into play; it enables establishing correlations between the qualitative and quantitative variables of the player and formulating a tentative technique for future games.
Improved Training
Based on the performance analysis of the player and the qualitative and quantitative variables of the player, coaches and trainers devise better training programs for their players.
Once a coach knows at what points the players lag, it becomes easier for them to develop a better strategy for future games based on the strengths and weaknesses of the players and continue further training.
Maintaining Fitness of the Players
Our health industry transformed manifolds after the introduction of artificial intelligence (see, for example, AI can detect certain cancers), and one can apply the predictive and diagnostic abilities of artificial intelligence to ensure the physical health and fitness of the players.
Since the physical health of each member of a team is of utmost importance, sports organizations invest heavily in tech tools to ensure the same; as a result, artificial intelligence is becoming the most crucial tool in the medical kit of every sports team.
Players are made to undergo regular physical tests using artificial intelligence to analyze different health parameters and detect signs of fatigue or stress before the games. Many players also use wearable technology (like AI smartwatches, ear pods, etc.) to track their movements and keep a tab on their health overall. It helps stream and collate health-related data and avoid major health issues in the future.
Revolutionizing Broadcasting
While revolutionizing sports for the players, artificial intelligence is also going to revolutionize the sports experience for the audience by picking the right display angle of the camera for the audience or by providing subtitles for the events in different languages in accord with the viewer's location and language, without any manual assistance.
This artificial intelligence technology could also help broadcasters monetize better by showing suitable advertisements or opportunities to the kind of crowd present there.
Conclusion
Artificial intelligence has already been used in content creation, especially for sports casting and in the future, there will likely be more tools to automate content generation.
If you are looking for an outsourcing company for your artificial intelligence annotations and data labeling services, you can contact Infosearch BPO. We provide fifteen different types of data annotation and image annotation services to many industries, including health care, image recognition, AI, Agrotech, etc., and data mining, data conversion and data processing.
Website: www.infosearchbpo.com
Email: enquiries(AT)infosearchbpo(DOT)com